DECKS AND MORE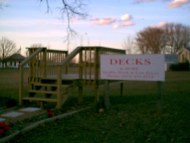 Welcome to the DECKS AND MORE web site.
DECKS AND MORE
We finally have a web based site.
This site was built to help inform people about our business, promote our monthly specials and products we have to offer.
We want to thank you for taking the time to check out this informative site and hope we can take care of any questions you may have and provide some insight on how important you are to us...